The Thermal Imaging Camera is my diploma project which was necessary to get my Engineer Diploma (BSc). I got the idea for the project whilst working at Continental where I found that using a TIC (Thermal Imaging Camera) is fast and useful for hardware debugging, especially for power electronics.
I was given the MLX90621 sensor (actually 2 pcs) by Melaxis as samples for being a student, for which I am very grateful. Therefore, the development begun. After careful consideration, I chose the components and the resulting specifications of the device can be seen below: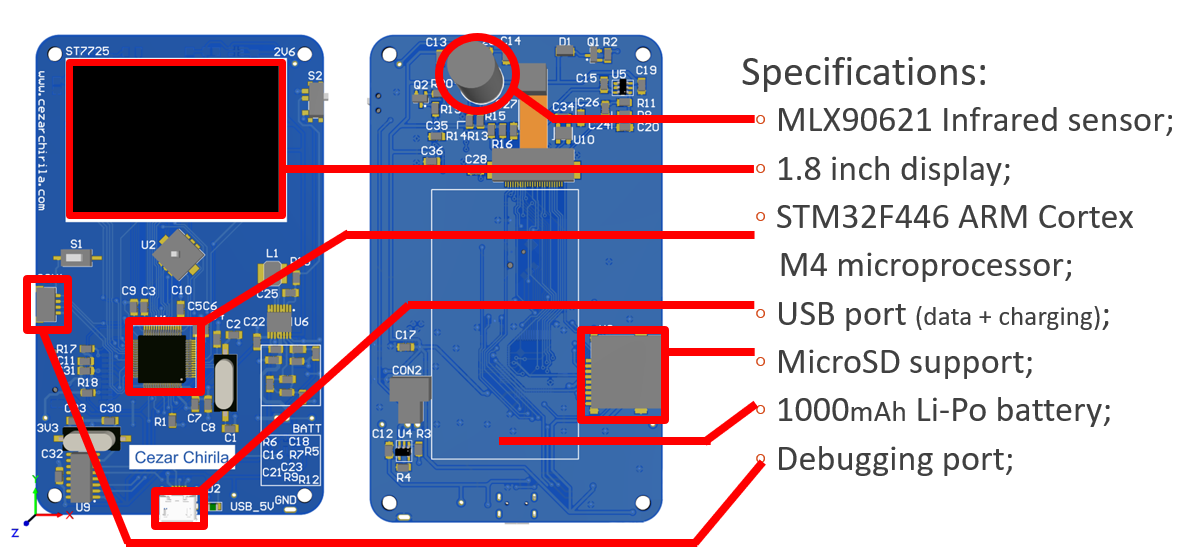 One thing that I have omitted from the specifications is the VGA CMOS Camera Sensor, which can be seen in the rendered picture above. Unfortunately, due to time constraints I did not have time to finish implementing this in software, but it is functional from a hardware standpoint (with proper power supplies and clock input). Otherwise, the device is fully functional. At the end of this page there is a video where you can see it working.
I have designed the PCB in Altium as I have never used it before and wanted to familiarise myself with it as it is seen as a professional tool. Below you can the unpopulated and the populated PCB. I've had them made at Elecrow and they turned out pretty great. I soldered them by hand.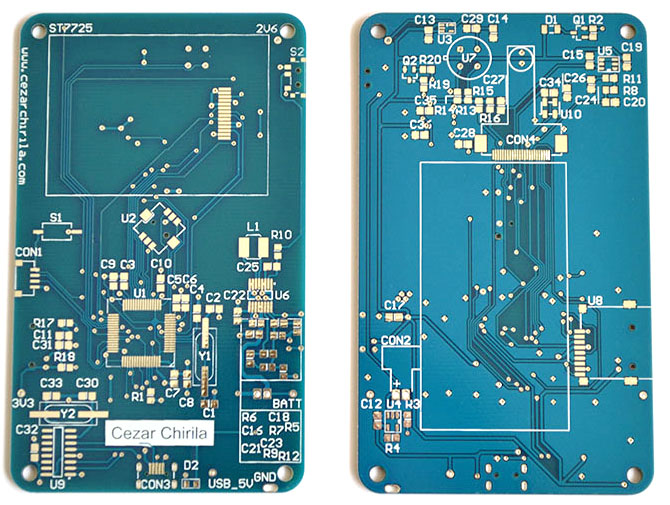 Unpopulated PCB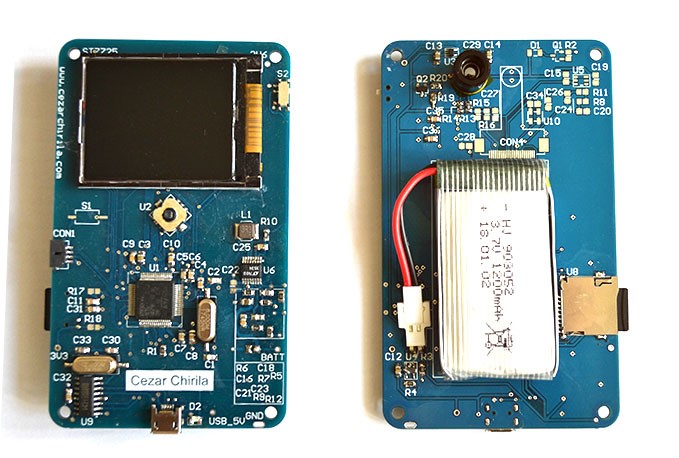 Populated PCB
I have implemented several features for this camera:
Ironbow color palette (Similar to what FLIR uses):
Minimum and maximum temperature selection: Manual or Automatic; Maximizing the usage of the color palette -> Better contrast
Save data (.csv) / image (.bmp) to SD Card (the BMP implementation was such a pain to write from scratch)
Interpolation: Nearest Neighbour and Bilinear (because the imaging sensor only has a resolution of 16 x 4). The top of two fingers:



Neareast Neighbour Interpolation




Bilinear Interpolation



Panorama feature: Simply stiches 4 images which the user has to align. Panorama thermal image of my hand:



Panorama Thermal Image



Serial passthrough using the USB port (There is a USB to Serial IC onboard - CH340g)
Desktop application written in electron, so the TIC becomes sort of a thermal webcam by using the serial passthrough



Desktop Application written in Javascript using Electron



Variable LCD brightness via PWM and many minor things (show FPS, select whose pixel temperature to see)
If you want to read my whole thesis based on this project I would 1. Be pleasantly surprised 2. Totally send you a copy. Use the contact form for more details, I usually try to reply as fast as possible. Finally, you can see a video of the device below: